The Singing Waiters are one of the most innovative and exciting acts for any wedding or corporate event. The act involves singers of different styles and genres, including Opera style singers posing as waiters throughout a meal, serving water and wine. After the meal the waiters burst into the most outstanding musical performance, leaving your guests completely speechless.
This unique and exciting Singing Waiters act never fails to receive a standing ovation. If you want to give your wedding or event something truly extraordinary, these are absolutely The Best Singing Waiters performing in Ireland right now – call us today for competitive quotes.
+353-1-201-3660
THE SHOW COMES IN A NUMBER OF DIFFERENT SET UPS;
SIZE – 2PC OR A 3 PIECE
VOCALS – MALE & FEMALE
INCLUDES SOUND ENGINEER, & ALL EQUIPMENT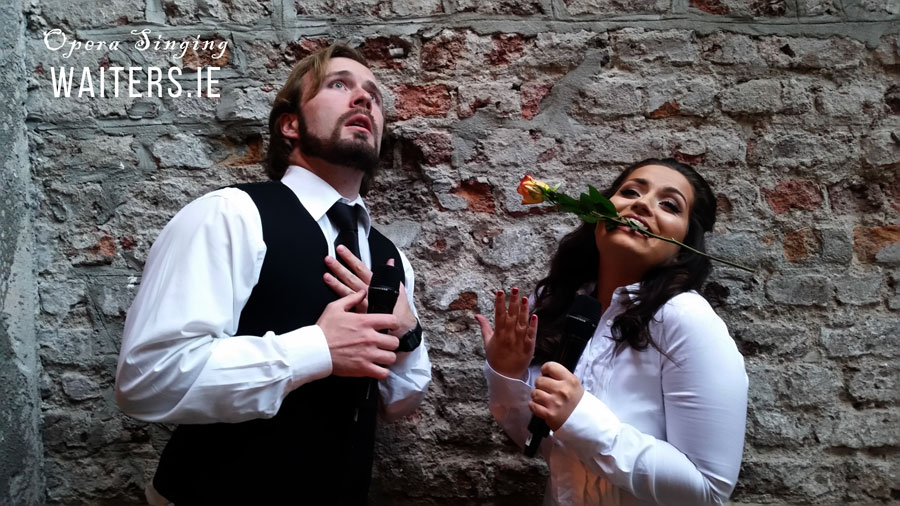 For bookings or any questions you may have in regards to the brilliant Singing Waiters For Hire in Ireland, please do contact our team on +353-1-201-3660, use our Contact Form to fill in your details, or alternatively, simply pop over to www.singingwaitersireland.ie where you will be able to find all the information on this fantastically unique musical surprise act.